Featured Story
Gatlinburg´s 7th Annual Ribfest & Wings
Posted on April 25, 2012.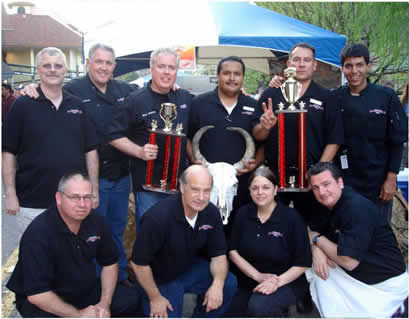 GATLINBURG - April 17, 2008 - GATLINBURG - Westgate Resort captured the People´s Choice Award for Best Ribs and the Gatlinburg Elk´s Lodge took home People´s Choice Best Wings honors in voting at the 2008 edition of Ribfest & Wings in Downtown Thursday.
Westgate Resort took home the Best Ribs trophy this year at Gatlinburg´s 7th annual Ribfest & Wings.
The City´s Department of Tourism has announced category winners from Thursday´s event which drew a crowd of thousands and featured live entertainment provided by the Beat Daddys.
Honorees included the Gatlinburg Fire Department for the Best Apron and Westgate Resort for the Best Decorate Booth at the seventh annual event, which benefits the Gatlinburg Lodging and Hotel Association´s educational scholarship fund.
Defending champion Jaaron Sturgill of Sevierville won the 3rd Annual Hot Wings Eating contest, sponsored by the Pepper Palace and Ripley´s Entertainment.
Other top honors went to:
Restaurant Category:
Ribs - 1st Bubba Gump Shrimp company; 2nd Hogg´s & Honey´s; 3rd TGI Friday´s.
Wings - 1st TGI Friday´s; 2nd Hogg´s & Honeys; 3rd Crawdaddy´s.
Public Service
Ribs - Gatlinburg Fire Department; 2nd Gatlinburg Police Department.
Wings 1st Gatlinburg Police Department; 2nd Gatlinburg Fire Department.
Lodging
Ribs - 1st Garden Plaza Hotel & Holiday Inn Pigeon Forge.
Civic Organization
Wings 1st Gatlinburg Elk´s Lodge.
Copyright 2008 SevierCountyNews.com
SevierCountyNews.com is a regional arts and entertainment web site based in Sevier.
Rating:

---
Posted By:
Chief Foodie Officer