Featured Story
Castello Vicchiamaggio
Posted on May 4, 2012.
Vicchiomaggio Street, from 4 to 50022
Greve in Chianti, Florence, Italy
Phone: 055.854079
Fax: 055.853911
Email: info@vicchiomaggio.it
p.iva 04026470486
The Castello Vicchiomaggio is another great winery that was introduced by our friend and wine distributer, Peter Freeman. We were driving through Tuscany in route to Rome and Peter suggested we take a detour through the Chianti Wine country and visit his friend John Matta. As Peter explained, John was born in England to an Italian family and studied Viticulture and Oenology at Alba. His family had purchased Vicchiomaggio in 1964 and John has been running the estate with his wife Paola since 1982. John has made a considerable mark on the Italian wine industry and was named Italian Winemaker of the Year in 2002, 2005 and 2010 at the International Wine and Spirit Competition (IWSC). Vicchiomaggio is consistently classified amongst Italy's top estates. As Peter noted, "here you have one of Italy's greatest winemakers and he speaks with an English accent". This I had to see.
When we arrived at Castello Vicchiomagio, we pulled up to a nondescript building just off the highway that serves as a retail store for their wines. A few moments later, John appeared and he was everything Peter said he would be – small in stature, big in passion, and with a thick English accent. He was in his "work" clothes; having just come from the vineyards where he had been harvesting this seasons grapes. He asked us to follow him, so we jumped in our car and started up the hill. About halfway up, he pulled over and led us by foot into his vineyard.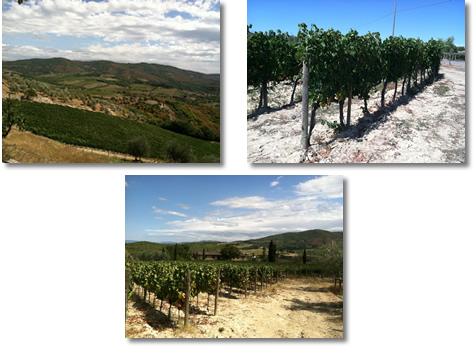 We were greeted by one of his workers who handed us some buckets and hand clippers. John then proceeded to teach us how he handpicks his grapes. Having visited many vineyards over the years, we knew to dress casual, but this was certainly a first for us. Nonetheless we were more than happy to get our hands dirty. Never before had a winemaker taken the time to show us how he harvests his grapes. It was clear to us that this artisan farmer was letting us know that his wines were all about the grape.
Great wine starts with having great grapes from the vineyard, and nowhere is this more evident than at Castello Vicchiomaggio. All work on the vines is carried out by hand and each vine is meticulously trained to produce a maximum of 6 bunches of grapes. Extensive green harvesting is performed to achieve this and several passes are made through the vineyard during the growing season to ensure that all the grapes ripen uniformly. This keeps yields low to produce the optimum quality of grapes for the wine.
We got back in our cars and headed up the hill. In the distance we could see the spectacular castle sitting high above us.
The origins of Vicchiomaggio Castle, originally named Vicchio of the Lombards, date back roughly to 1400 as reported on some ancient scrolls still preserved. It's located on top of a hill overlooking the Greve Valley - just 18 km from Florence and 38 from Siena. The Vicchiomaggio Castle, built out of solid stone and built directly into the natural stone of the mountain (see photo below). Thanks to careful and meticulous restoration, it is perfectly preserved and has been recognized as national monument.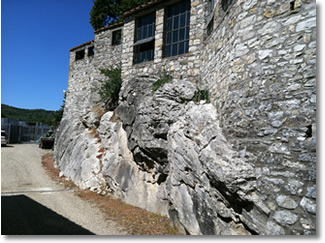 In the Middle Ages, the walls of Castle Vicchiomaggio played a key role in the defense of Florence, and in its long and glorious history, many celebrities have stayed there, including Leonardo da Vinci and Francesco Redi. Da Vinci stayed there in the very period when he was painting his masterpiece, the Mona Lisa.
Behind this rock wall is one of the most beautiful estates in the world, and buried underneath the castle is one of the most interesting barrel rooms we have ever visited.
Once inside the walls you will be treated to lush gardens with spectacular views of the Tuscan countryside. The main castle has an old-world style courtyard complete with its very own chapel, making this the perfect location for an Italian country wedding. There is even a small boutique hotel on site that can hand small weddings and groups.
But this is a working farm, and in regardless of the ancient and beautiful structures, every inch of this storied castle serves a greater purpose of producing wine.
We started our wine tasting on the terrace overlooking the vineyards. We shared a bottle of his Tuscan white wine, Ripa Delle Mandorle, with some local cheeses and fresh baked breads. Ripa delle Mandorle literally means hill of the almond trees. This well structured easy to drink Super Tuscan is made from a blend of 80% Sangiovese and 20% Cabernet Sauvignon grown on the estate. It is soft and approachable with a pure flavor and good length. The cool crisp flavor reminded me of a Pino Grigio without the overbearing sweetness of the fruit. It is the perfect wine for a warm summer day, and I was astonished when John told me that it sells for around $10 US. I have since bought several cases and given many as gifts to friends.
From there, we went inside the castle and had an fabulous lunch that included one of my all-time favorites dishes - Bolognese over pappardelle pasta. It was there that John introduced us to his full repertoire of outstanding red wines. John makes a range of red wines typical of the best of Tuscany, each from a different vineyard on the estate, as well as the traditional Sangiovese grape. He also grows the local Canaiolo and small amounts of Cabernet Sauvignon and Merlot. His best wines are known to have superb cellaring potential, and develop exceptional complexity.
When it comes to Italian wines, my tastes lean more to the body and complexity of a good Brunello Di Montelcino, but John absolutely stunned me when he opened a bottle of his Chianti Classico Riserva ´Agostino Petrizi´. I find most Chianti's to be a bit on the light side for my palate, but this weighty wine had a super structure with a well-balanced rich fruit. In fact, I tell my friends that I would drink this Chianti over most of the Brunellos I have tried in the past, and this wine is certainly a much better value at around $35 per bottle.
But the best had yet to come. John brought out a bottle of his FSM, named after his father, Federico Secondo Matta, using 100% Toscana IGT Merlot. FS Matta was born in a small hill village, Tonengo, near the town of Asti in Piemonte in 1891. He emigrated to London and in 1921 set up a wine import business. The company became the largest Italian wine specialist in Britain and was sold to a large conglomerate in 1966, which made market leaders out of totally unknown Italian brands such as Campari, Bolla, Santa Margherita, Corvo, Gancia, San Pellegrino water and many more.
FSM has the full-bodied characteristics and ruby red color of Merlot but with all the flavors and charm of Tuscany. Accepted wisdom states that quality wine comes from older vines; however, FSM is produced from young vines, a fact that John Matta is proud of. His method of heavy pruning and very low yields are used to counter the natural vigor of young vines and assure the highest quality. FSM can definitely be enjoyed when it is at least 3 years old; however, further cellarage will definitely enhance all the wine´s characteristics. Here is an interesting note – 2003 was the very first production year for FSM, and the 2004 Vintage produced such a well-balanced crop that the wine received Italy's coveted Tre Bicchieri from the Gambero Rosso. This is unheard of for a wine produced from five-year-old vines. The wine is quite pricy ($160 US+), but well worth the investment.
Every great day must eventually come to an end, and we still had to make the 2-hour drive to Rome, so it was time to say goodbye. We have visited many vineyards over the years and had the privilege of meeting some very special people who cultivate and create unique and interesting wines. But this turned out to be a very special and memorable day. What made it truly remarkable was that we showed up in the middle of harvest, and as busy as he was, John took the time to make us feel special and introduce us to wines that we will be sharing with our friends for the rest of our lives.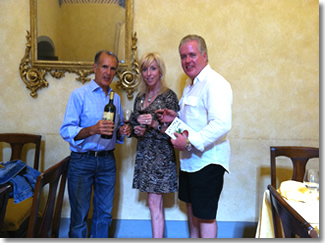 Rating:

---
Posted By:
Chief Foodie Officer