Featured Story
Top 10 Tips for Visiting the Aspen Food & Wine Classic
Posted on June 24, 2012.
If I ever wrote a "bucket list", it would have to include "attend the Aspen Food and Wine Classic in style." For any serious foodie, attending the annual Aspen Food and Wine Classic is akin to watching the Superbowl from your favorite teams bench and going to a three-day after-party when they win. This is the ultimate food and wine event for industry insiders, media and food fans alike hosted in the backdrop of one of the most beautiful resort towns in the world. But now I can strike this off any future bucket list because my wife Karen bought me tickets for this year's event as a birthday present. The 30th Anniversary Aspen Food and Wine Classic was held on June 15-17 in Aspen Colorado, which was especially apropos since we had just celebrated our 30th wedding anniversary. But as I noted above, I didn't just want to attend this prestigious festival, I wanted to attend it in "style".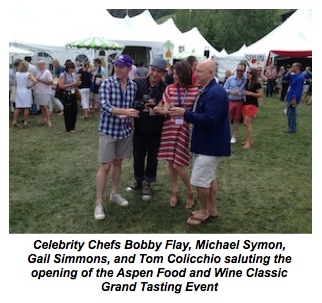 My friends and family know how meticulous I am when planning each trip we take. My philosophy is that our personal time is the most precious time we have, and we don´t want to miss the really important things, or even worse, waste our time on a bad food, wine or travel experiences. Having never been to the Aspen Food and Wine Classic, our number one concern was making sure we had an unforgettable and positive experience. For one thing, this is not an easy event to get to, and it's "literally planes, trains and automobiles" away from where most of us live. It's also one of the more expensive events of its kind. You can easily expect to spend over $3,000 per person for travel, lodging, tickets, dining and entertainment. I guess this is why I refer to it as a "bucket list" item because it's definitely a once in a lifetime experience for most of us.
When I first began planning our trip I was surprised by the lack of detailed information available on this event. Yes, they have a website, but it is more of a schedule of events with cryptic symbols and directions that require a certain level of insider knowledge to decipher. And no matter how many concierges or local tourist information advisors that I spoke to, no one seemed to have the inside scoop. I was starting to get concerned that we would show up and realize that we were not on the right list, or did not make the right reservations.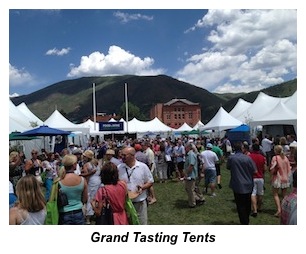 Now that we have our first Aspen Food and Wine Classic under our belt, let me put this one concern to rest for any other newbies - If all you do is buy your tickets and show up, you will have a great time. The event planners for the Aspen Food and Wine Classic do a very good job of creating an inclusive environment where everyone gets to interact with their favorite chef or winemaker. In fact, we were somewhat surprised to see how accessible and approachable many of the celebrity chefs were, especially a legend such as Thomas Keller, who stood out in front of the All-Clad booth and gladly taking pictures and talking to anyone who walked by. He was also personally handing out flyers to promote the Bocuse d'Or completion (please go to www.bocusedorusa.org to learn how you can support this important organization). To quote Christina Grdovic, publisher of Food & Wine, "Our goal is to make sure that the people who have come here and they´ve paid the money to buy the tickets, that they get the opportunity to mix and mingle and see the chefs up-close." But, as we learned from our first experience, there are several things you can do to enhance your experience. So here are some tips for you to consider when planning your trip to the next Aspen Food and Wine Classic:
Tip #1: Buy your tickets as early as possible. Over 5000 people attended the 2012 classic and it sold out well in advance. It was sad to see people walking up to the entrance thinking they could by tickets when they arrived, only to be turned away. Tickets for the 2012 Aspen Food and Wine Classic went on sale in early December of 2011. You can buy your tickets online at www.foodandwine.com.
Tip #2: Buy the right ticket. As I noted above, the event is designed to allow everyone access to the celebrity chefs and winemakers, but as you can expect there are different levels of access. At the event you will see people wearing a multitude of different passes, many of which are for the sponsors, exhibitors, volunteers and various staff members. These are the best options we found for the general public:
• "Consumer": This pass sold for $1225 for the 2012 Classic and gives you access to a long list of demonstrations led by celebrity chefs, cooking classes, wine seminars and several "Grand Tasting" events hosted in massive tents in the center of town. This years event included dozens of food tasting exhibitions and over 300 wine exhibitors, pouring anywhere from four to seven wines each. The only downside to this pass is that you have to wait in line for every seminar and demonstration, and the more popular ones start lining up an hour before they open.




• "Trade": This pass also sold for $1225 for the 2012 Classic and is for people who work in the food, wine or travel business. This pass gets you access to trade-specific seminars, daily continental breakfasts, trade social events, and the Classic Welcome Reception on day one. Unless you are dying to sit through classes such as "marketing to todays diner", the real advantage of this pass is that you get into the Grand Tastings 45 minutes before the general public with Consumer passes swarm the tents. You still have to stand in line for your seminars and demonstrations.




• "Green Pass": This ticket sold at this years event for $3,500 with $1,000 going directly to the Grow for Good Campaign to raise funds and awareness for their national initiative dedicated to supporting local farms and encouraging sustainable agriculture, and benefiting Wholesome Wave Foundation.

This pass includes everything above plus invitations to the Classic Welcome Reception, Food & Wine Classic Dessert Party, Friday, and the Food & Wine Party and Concert on Saturday. You also get a one-time pass to the Classic Green Room (VIP Gifting Suite) and your name listed on the Green donors page in the Classic event program. While this is the most expensive ticket, the real advantage of this pass is VIP access to all seminars and Grand Tastings (no standing in line to see your favorite chefs).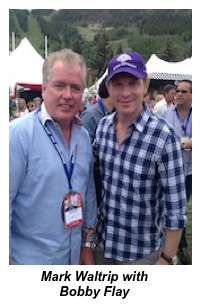 Tip #3: Complete your event schedule. If you are reading this and have already bought your tickets, you need to immediately go to: www.foodandwine.com and schedule your sessions. Sessions with the popular celebrity chef's fill up within weeks of when tickets go on sale, so if there is someone you really want to meet and learn from, sign up as soon as you can.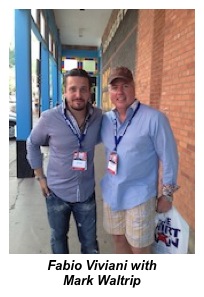 Tip# 4: Make your hotel reservations as soon as possible. While passes for the 2012 Classic did not go on sale until December of the year prior, the local hotels started filling up well before then. The St. Regis Hotel is the epicenter of most of the Food & Wine Classic activities, but there are several other great hotels within a short walk (The Grand Hyatt is next door and Little Nell is about 2 block away). This year the St. Regis hosted the pressroom and most of the bigger seminars, as well as the Food & Wine Magazine opening party. The St Regis is pricey, but worth it, but know that you will not be spending a lot of time in your room and the main events are scattered within a short walk from each other.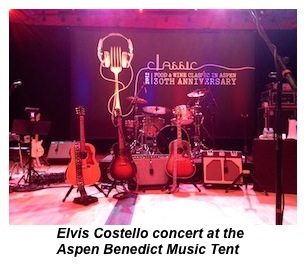 Tip #5: Don't get too excited about the after hour parties. We thought we were lucky to get invited to parties each night, but the truth is you will be seeing the same people you saw all day long, and the food will and wine will not be nearly as good as you will find in many of the local restaurants. Aspen has an amazing collection of restaurants, some of which you can read about in the Restaurant section of this website. But if you really want to hang out with the "in-crowd", there are several after hour events that you can buy tickets for. This years events included a late night dessert bash hosted by Gail Simmons and a 30th anniversary party at the Aspen Benedict Music Tent with music by Elvis Costello and gourmet food served by Mario Batali, Jose Andres and Michael Nischan.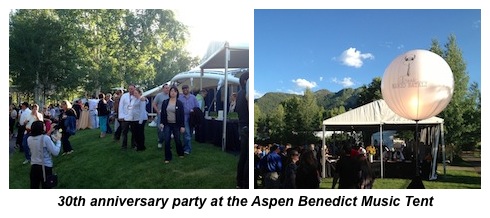 Tip #6: pace yourself! The most important tip I can give you came from a friend of mine that I happen to meet at the very first event on the first day of the Classic – pace yourself. You will be exposed to a sensory overload of great food, wine and culinary training experiences. Think of this as a marathon, and you will quickly burn out if you try to sprint through and taste everything. The food and wine offerings in the tents will be there for 3 days, so take your time, sip gently, and enjoy yourself.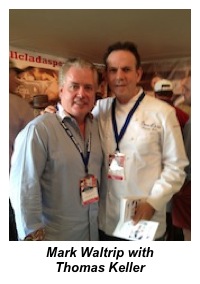 Tip #7: Don't be an autograph hound. You will have mostly unfettered access to a wide range of celebrity chefs. We got to meet almost every famous chef we have ever admired from Thomas Keller to Mario Batali. We ran into Emeril Lagasse while we were checking into our hotel, met Bobby Flay while walking around the Grand Tasting tents, and stopped and talked to Fabio Viviani while shopping in the neighborhood stores. We found that most of the celebrity chefs are very approachable, but there were a few that obviously did not want to be bothered and one that was especially rude. While I won't call him out by name, everywhere we went someone was talking about his calloused attitude. This was a shame considering that he is one of the stewards of our industry (and to him I say - please don't come back next year). If you see someone famous that you want to meet, just hang back and observe. You will quickly find out whether or not they are willing to talk or get a picture by how they react to the crowd. The best way to get an autograph is to buy one of their cookbooks and stand in line to get it signed. The chefs sell and sign their books in the center courtyard of the Grand Tasting tents. You will find a stanchion next to the book-selling tent with the daily schedule for each celebrity chefs book signing.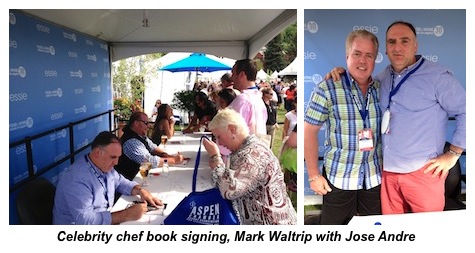 Tip # 8: Dress comfortably. The best description of the proper attire for this event is "smart casual". The Aspen crowd is very chic, but the streets are paved with cobblestones and the Grand Tasting events are held on grass-covered lawns, which makes wearing high heels almost impossible. Other than the cooking demonstrations and seminars, you will spend the majority of your time standing or walking. Most people wear jeans or shorts with dressy t-shirts during the day, and jeans with a designer dress shirt in the evenings. Also, the weather this time of year can be very deceiving. It is typically in the 70's during the day and 50's at night, but remember this is a mountain town. It can be windy one hour and raining the next. Do not do what we did and pack heavy coats and jackets. Just bring a few light jackets or sweaters for any potential inclement weather.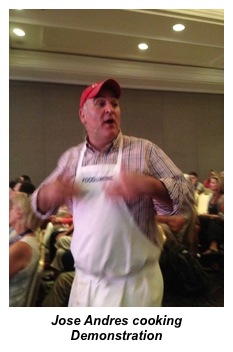 Tip # 9: If you want to interact with the chefs, line up early. While the event organizers claim to control the numbers tightly to allow everyone access, the celebrity chef demonstrations fill up quickly. The lines for the more popular chefs start forming at least an hour before the events, and you will still have to wait for the "Green Pass" members and VIP's to get in first. Many of the chefs will interact with the crowd, hand out a few cookbooks and t-shirts, and share their concoctions with members of the audience. A few like Jose Andres will pace up and down the aisles talking to the audience. During her seminar, Giada De Laurentiis made a friendly poke at Bobby Flay's team on The Next Food Network Star. We did not know that Bobby happened to be standing a few feet away from us and he quickly chimed in with his observations about Giada's team. A few hours later, we were in Bobby's cooking demonstration and Michael Simon was heckling him from the front row. After Bobby handed out a sample of what he was cooking to a member of the audience, Giada walked from the back of the room to hand him back his plate. It was all in fun, and totally without a script, but being in the center of it all made for great entertainment. If you want the best chance of being part of the show, try to be in the first several rows and sit on the center aisle.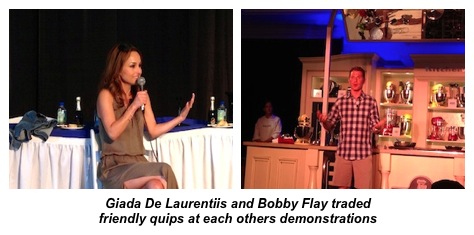 Tip #10: Extend your trip. There is an airport in Aspen, but most people will find their way via the Denver Airport and take the four-hour drive to Aspen. But remember, this is a "bucket list" trip, so take advantage of the fact that it is located in one of the most beautiful towns in one of the most beautiful states in America. You have a variety of pre and post Aspen options, including Denver, which is a clean big city with a small town atmosphere. Denver has countless restaurants and entertainment options. A little further into the mountains you will find Boulder, Colorado, home to my alma mater – the University of Colorado. As noted in the Restaurant Review section of this website, Boulder is a haven for serious foodies with many outstanding restaurants and a very hip outdoor walking mall along Pearl Street. Along the way to Aspen you will find numerous ski resort towns, many of which have extensive summer offerings (hiking, biking, fly-fishing and destination spas). We spent five days in Vail in route to this years Food and Wine Classic and discovered multiple world-class restaurants (see our Restaurant Reviews), hiked the mountain every day, and went fly-fishing in the river right in front of our resort. If you find yourself driving from Denver to Aspen, get off at the Minturn exit just past Vail and take Highway 24 to Aspen. This slight detour will only add about 15 minutes to your trip but you will be exposed to one of the most scenic mountain drives in the world. Highway 24 will take you through Leadville, a former silver mining town and the highest incorporated city in the United States (elevation 10,152 feet). From there you will traverse through Independence Pass (elevation 12,095 feet) and wind down into Aspen, passing old mining ghost towns and snow-covered peaks. Just be careful and take your time on the final leg of the highway leading into Aspen. It will get so narrow in a few places you will wonder how two cars can share the same road. Finally, Aspen is one of the most beautiful mountain towns in the country. Make sure you take a few days to explore Aspen (great shopping and dining) and the surrounding mountains and towns. You will be 15 minutes away from the most photographed spot in Colorado - the Maroon Bells. You can catch a bus from the center of town or drive out to the Maroon Bells visitor's center and catch a bus to the edge of Maroon Lake. Starting at the lake you will find numerous hiking trails suitable for everyone from novices to experienced mountain hikers. You are also a stones throw away from other great mountain towns, such as Glenwood Springs where you can experience a variety of outdoor activities, including a natural hot spring, white water rafting, fly-fishing, and mountain hiking.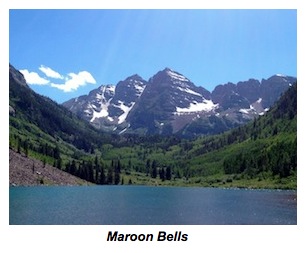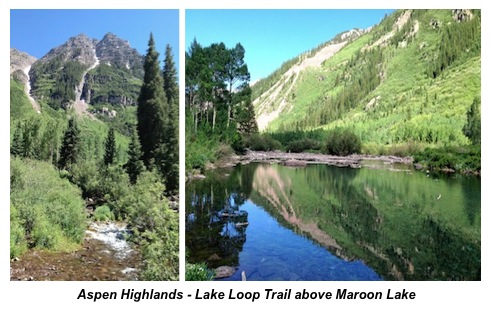 So now I have a new "bucket list" item to consider – "attend the Aspen Food and Wine Classic every year from now on." I don't believe I have ever been to an event that made me feel this good about the industry and the people that I love so much. We only got back a few days ago and we already have requested our hotel reservations for next year. I hope you can join us next year!
Bon Appetit!
Rating:

---
Posted By:
Chief Foodie Officer