Featured Story
How to See Barcelona in a Day
Posted on September 23, 2012.
Barcelona represents everything European cities are known for - outdoor markets, great restaurants, interesting shops, unique museums, and historical sites and churches. This beautiful city is perfect for walking and the core center of town, focused around the Ciutat Vella, is a great place to experience the life of Barcelona. The climate is relatively mild and the beaches can be enjoyed almost year round. I particularly love Barcelona for its food and wine experiences. It has become one of the richest foodie destinations in the world with amazing new chefs coming here from all over the world to hone their skills.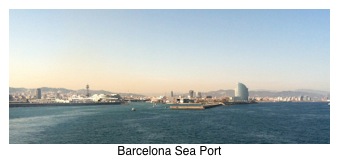 Barcelona is the capital and largest city of Catalonia and is located Mediterranean coast of Spain. With nearly 2 million people, Barcelona is Spain's second largest city, but it's not nearly the size or overwhelming as other destination European cities. Founded as a Roman city of Barcino, Barcelona has a rich cultural heritage and is home to the renowned architectural works of Antoni Gaudí and Lluís Domènech i Montaner.
In 1992, Barcelona gained international recognition by hosting the Olympic games, which brought a massive increase in tourism. The Olympics also brought a renaissance to the city center where many neighborhoods were either renovated or leveled with an intense focus of modern design. Barcelona has transformed itself into a very modern, yet incredibly old city where the every best of the 21st century collaborates beautifully with ancient architecture.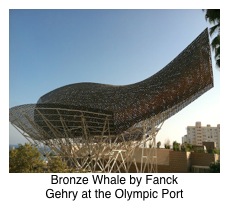 I suggest you plan at least 3-4 full days to experience Barcelona, but if your time is limited, you can capture most of the essence of this beautiful and engaging city in one day (wear comfortable shoes because you will be doing a lot of walking). The following is a list of sites you can see in a day by walking and taking a cab when necessary:
1) Take a cab to the Columbus Monument: This 197 foot tall monument to Christopher Columbus is located at the site where Columbus returned to Spain after his first voyage to the Americas. The reason why I start at this location is because it puts you at the lower end of one of the most famous boulevards in the world, La Rambla.
2) Walk the colorful street of La Rambla: La Rambla is worth visiting even if you only have one day in Barcelona. This mile-long road bustles with tourists, artists, human statues, fortune-tellers, dancers and musicians. A variety of unique shops, newspaper kiosks and cafés line the street.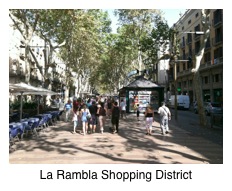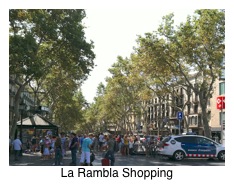 3) Buy some Jamón Ibérico ham at La Bogueria: La Boqueria is a large public market on La Rambla (about midway between the Columbus Monument and Plaza de Catalunya). The Boqueria market dates from 1217 and is full of wonderful and unique stores that sell an extensive array of meats, fresh fish, groceries and European delicacies. But my favorite delicacy is the Jamón Ibérico ham. This flavorful cured ham is made from black Iberian pigs that were raised on a specifically controlled diet. Jamón Ibérico has been recognized by the IFFA Delicat as the "Best ham in the world" (2007 and 2010).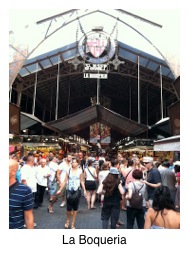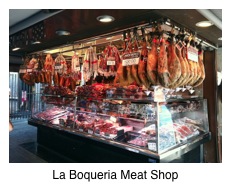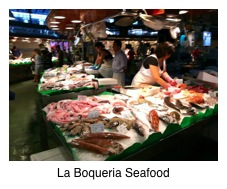 4) Have a traditional tapas lunch: If you walk north from Plaza de Catalunya on Rambla de Catalunya, you will find Ciudad Condal, one of my favorites tapas restaurants in Barcelona (see our restaurant review section for more details). Tapas are a wide variety of small plate dishes that resemble appetizers. Tapas may be served cold (such as mixed olives and cheese) or warm (such as chopitos, which are battered, fried baby squid). According to legend, the tapas tradition began when king Alfonso X of Castile recovered from an illness by drinking wine with small dishes between meals. After regaining his health, the king ordered that taverns would not be allowed to serve wine to customers unless it was accompanied by a small snack or "tapa". Tapas are designed to share and allow you to try as many different tastes as possible. Barcelona is famous for its seafood, so you should definitely try the local catches of fresh squids and fishes.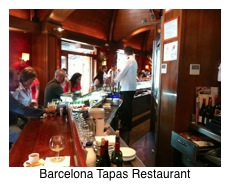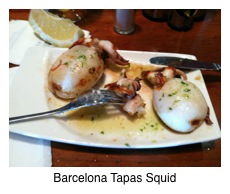 5) Visit Gaudí´s grand designs: After lunch, walk one block to the east and head north on Passaig de Gracia. A few blocks down you will find two famous buildings designed by the Catalan architect Antoni Gaudí - Casa Batlló and Casa Milà. Casa Batlló was built in 1877 and restored by Antoni Gaudí and Josep Maria Jujol in the years 1904–1906. It was originally designed for a middle-class family and much of the façade is decorated in true Gaudi style with a mosaic made of broken ceramic tiles. Casa Milà was built in 1910 and designed by Gaudí and for the married couple, Roser Segimon and Pere Milà. Roser Segimon was a wealthy widow. Her second husband, Pere Milà, was a developer who was ridiculed by the contemporary residents of Barcelona for his love of money and opulence, wondering if he was more interested in "the widow's guardiola" (piggy bank), than in "Guardiola's widow.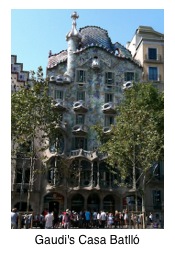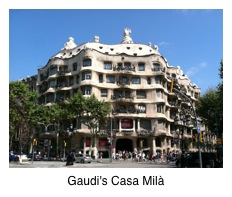 6) Take a cab to Park Güell: Park Güell is a magical place that emulates an English garden city. Park Güell has a variety of unique architectural buildings, most of which were designed by Antoni Gaudí and built in the years 1900 to 1914. It's situated on the hill of El Carmel overlooking Barcelona and offers the most complete view of Barcelona and the bay. The park was originally an unsuccessful housing site, the idea of Count Eusebi Güell for whom the park is named. Gaudí lived in the park from 1906 to 1926, and his house is now the Gaudi House Museum. The gatehouses are based on designs for the opera Hansel and Gretel. The focal point of the park is the main terrace, surrounded by a long bench in the form of a sea serpent. Gaudí designed many unique structures that jut out from the steep hillside on viaducts, with separate footpaths in arcades formed under these structures.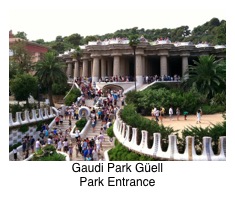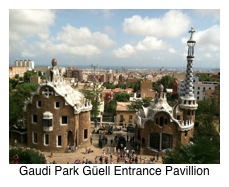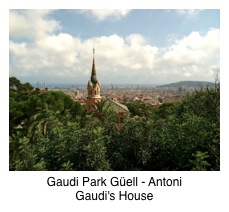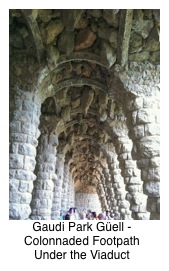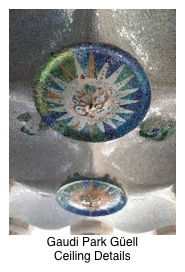 7) Take a cab to Sagrada Familia. Sagrada Família is a large Roman Catholic Church designed by Antoni Gaudí. Construction of Sagrada Família started in 1882 and has yet to be completed. In spite of its incomplete condition, it is one of the most amazing architectural works in the world. Gaudí took over the project in 1883 and transformed it with his architectural and engineering style—combining Gothic and curvilinear Art Nouveau forms. Gaudí devoted his last years to the project, and at the time of his death in 1926, less than a quarter of the project was complete. Sagrada Família´s construction progressed slowly over the years and was about half complete in 2010. It is currently slated for completion in 2026.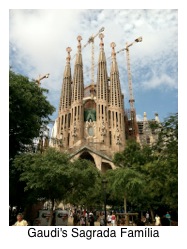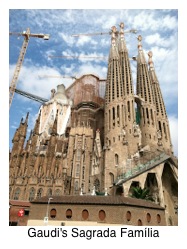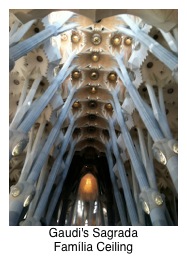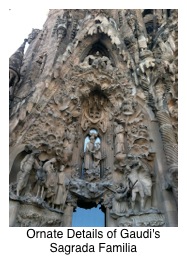 8) Complete the day with a seafood dinner at one of Barcelona's many amazing restaurants. For recommendations, please check out our restaurant review section.
As I noted before, you should really plan to spend at least 3-4 days in Barcelona. The city has a great number of museums, including The National Museum of Art of Catalonia that possesses a well-known collection of Romanesque art, and the Barcelona Museum of Contemporary Art that focuses on post-1945 Catalan and Spanish art. The Fundació Joan Miró, Picasso Museum and Fundació Antoni Tàpies hold important collections of these world-renowned artists.
Barcelona is also close to one of Spains great wine regions – Penedès. Long considered one of the country´s best wine-producing regions after the Rioja, Penedès is framed by the coastal hills of the Serra del Garraf and the higher inland mountains about one hour from Barcelona. The region is blessed with diverse and fertile soils and a warm climate which have proved to be perfect conditions for wine-making that can be dated back to the Phoenician times, an ancient civilization who arrived on the Iberian peninsular long before the Romans. It wasn´t until the 19th century when regional producers truly mastered the art of wine-making when they began producing the legendary Cava wines by successfully imitating the French Champagne method of producing sparkling vintages. The region also produces some highly-regarded, oak-aged reds.
Barcelona is a magical and beautiful city that will capture your heart and imagination. It is truly a foodie mecca and one of my favorite European destinations. I hope you enjoy!
Rating:

---
Posted By:
Chief Foodie Officer