Featured Story
BottleShock Protective Wine Carrying Case
Posted on December 8, 2012.

Do you remember when you could visit a winery and buy a few bottles of wine and carry them home on the plane? Or when you were traveling to visit an old friend and you would throw a great bottle of wine in your carry-on luggage? Wine lovers miss the days when they could travel freely with a few of their favorite wines, and wine sales have been impacted around the world because customers can´t get their wines home without risk of damage. Unfortunately, airline travel regulations prohibit traveling with liquids greater than 3.4 ounces, and wrapping your wines in towels or plastic bags is a very risky proposition. They say that necessity is the mother of all invention, and traveling without wine is not an option for a serious wine lover. The solution to this challenge is Bottleshock™.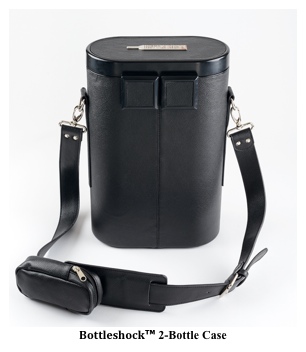 Bottleshock™ is a revolutionary wine or liquid carrying case that looks like a beautiful wine satchel, but protects your bottled liquids with a crush-proof, liquid-tight sealed container. Bottleshock™ not only protects your wines but also doubles as an attractive wine carrying case that anyone would be proud to carry into their favorite restaurant or event. Bottleshock™ includes the following features:
Three convenient versions with one, two or three bottle cases.
Crush-proof synthetic shell and liquid-tight lid to prevent the contents from leaking outside of the case (as most wine enthusiast know, not all bottle liquids have perfect seals).
Covered with a top-grain leather exterior cover and includes a convenient leather carrying strap with a small leather pouch to store your corkscrew and other personal items.
Bottleshock™ is sized to support a variety of bottle sizes and shapes, including Pinot Noir and larger Cabernet wine bottles.
Bottleshock™ has a padded lining and liquid-tight seal that keeps wines at cellar temperature for up to 6 hours.
Bottleshock™ can be placed in your suitcase for airline travel, or placed in the Bottleshock™ travel bag and checked as a separate piece of luggage. The travel bag includes a TSA lockable zipper.
Bottleshock™ can be private labeled for merchants and wineries.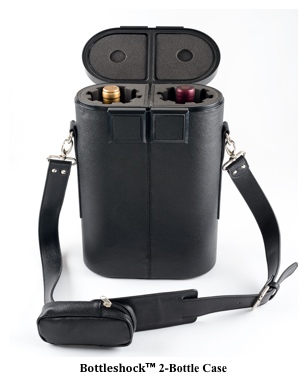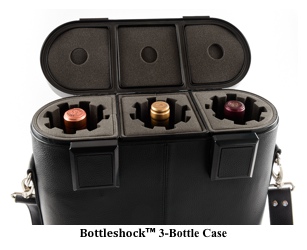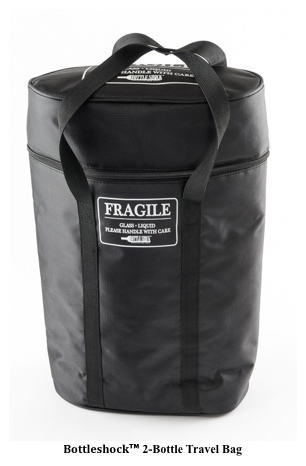 To learn more or order your today, please visit BottleShockCase.com, or email us at mark.waltrip@cookingwineandtravel.com.
Rating:

---
Posted By:
Chief Foodie Officer