Our Certified Foodie Test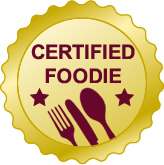 About Our Test:
Welcome to our fun and educational quiz to test your knowledge of food and wine. Once you complete this quiz, you will be given the opportunity to submit your profile for consideration as a Certified Foodie. If you don´t want to submit a profile, you can also choose to simply join our site and have access to hundreds of recipes, as well as information on dining, wine and travel destinations.
Number Of Questions: 25
Instructions:
The following test is a mix between multiple choice and true or false answers. There is no time limit so just have fun testing your foodie skills.