Our Vision
The goal of Cooking, Wine and Travel is to create a web-based community where people who have a passion for food, wine and travel can share credible information. It is our belief that anonymous reviews have diminished the credibility of most websites where anyone can say anything without proof or qualifications. In addition, "Expert" reviews and recommendations do not always represent individual tastes. Most people will agree that the best recommendations come from people you know and trust. Therefore, we are building our community based on the following principles:
A foodie is anyone who loves and appreciates great food, regardless of style, price or setting (i.e. a "foodie" is not constrained to someone who likes expensive gourmet dining).
Anyone can visit our site, but only a Certified Foodie can post information and reviews. We will give everyone an opportunity to qualify themselves to post reviews, and we reserve the right to approve these qualifications.
We do not want biased or self-serving reviews. All reviews and recommendations should be unbiased and completely independent of the place being reviewed.
Transparency facilitates honesty. Every review or recommendation will include the reviewer´s profile of their qualifications and the types of foods and wines they like.
This community to be fun and promote the love we share for food, wine and travel.
About Mark Waltrip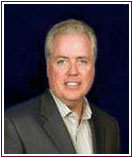 Mark is a restaurateur, author, inventor and noted expert in the hospitality and real estate development industries. He has over twenty years experience developing, managing, and building companies. Mark is currently the Chief Operating Officer for Westgate Resorts, the largest privately owned timeshare company in the world where he leads the development, marketing and operations of 27 luxury destination resorts and a variety of restaurant concepts, retail outlets and full-service health spas.
Mark is the author of "Recipes for Success: A Cookbook with a Recipe for Life" is an exciting and unique concept that integrates a cookbook with a recipe for life. It is based on the idea that life is a lot like cooking - the difference between success and failure are the ingredients you chose and the recipe you follow. The book demonstrates that both successful living and cooking require essential ingredients and a clear understanding of how to bring them together to create something truly special. The book also includes over 100 of Mark´s recipes with simple step-by-step instructions.
Prior to pursuing his passion in the food, wine an travel industry, Mark had a diverse career that included experience in the commercial space launch industry. Mark was a true-to-life "Rocket Scientist" that helped build the launch facility for the Atlas commercial satellite program and was the propulsion and pneumatics engineer on the launch team for 12 commercial space launches. Mark also served over 20 years in the United States Air Force (10 years on active duty and 10 years in the Reserves) where he led a highly decorated unit that specialized in business reengineering.
Mark has a Bachelor and Masters of Science degree in Aerospace Engineering from the University of Colorado, and was elected to the National Honor Society for Engineers and the National Honor Society for Aerospace Engineers.
Recognized as an inspirational and tireless leader in the community, he serves on charitable foundation boards and industry organizations and is frequently featured as a guest speaker at industry, academic and leadership conferences across the country. He is a current board member of the Westgate Foundation and is a past board member of Florida Special Olympics where he is still actively involved. Mark is a member of the Urban Land Institute (ULI), American Resort Developers Association (ARDA), and is a past member of the International Advisory Board for University of Nevada, Las Vegas. Mark is also the founder of Hospitality Helps, a public-private partnership that helps families transition out of homelessness.